Earlier this week we announced the launch of the new iDSI website: a platform that highlights our work helping low and middle income countries to achieve sustainable, good quality healthcare and also provides a place for our experts to weigh in on current events in the global health community on our blog.
Our Impact
The second feature of the new website that we would like to introduce is the 'Our Impact' section of the site – which focuses on country specific work that ranges from developing quality standards to building capacity for health technology assessments.
Use the interactive map to explore the in-country projects that we are supporting – clicking on the country will take you to a page that highlights what work is being conducted and who we are partnering with to enable better healthcare decisions.
Click on South Africa and you will see we are working with our core partner PRICELESS SA (Priority Cost Effective Lessons for System Strengthening South Africa) a research unit based at Wits University School of Public Health, to develop capacity to undertake and use evidence provided by Health Technology Assessments to better inform government decisions on healthcare.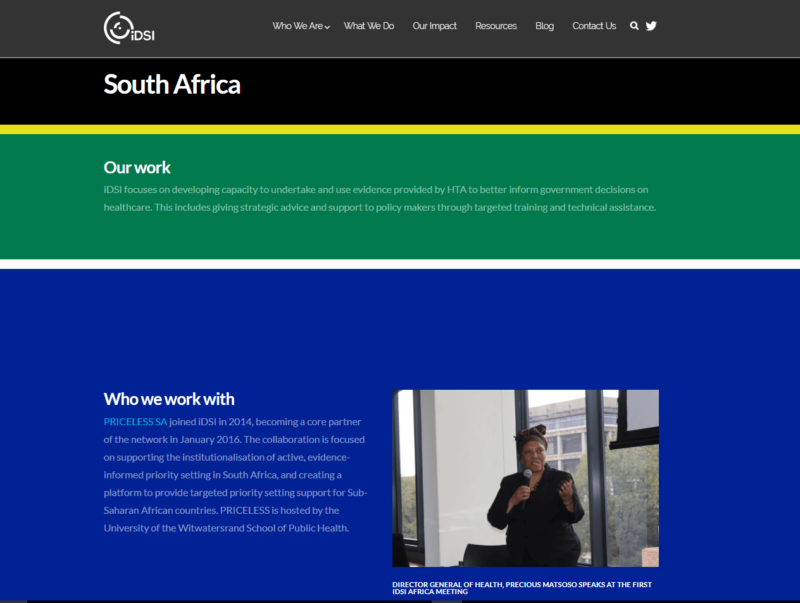 We've been working in South-East Asia for a number of years to bring about improvements to healthcare systems and policies. iDSI core partner HITAP (Health Intervention and Technology Assessment Programme) who are based in Thailand lead on much of this work. Our involvement in Vietnam has helped to to embed HTA evidence into designing a safer public health care system, and to improve hospital quality in key disease areas.
"The collaboration with iDSI has led to policy change and has been of great value to us in Vietnam. I appreciate the commitment shown by iDSI in supporting Vietnam to use evidence to inform decision-making in health."

– Prof Pham Le Tuan, Vice Minister of Health in Vietnam
Find out more about our work in low and middle income countries by exploring the map here.
iDSI Knowledge Gateway
You can also search the iDSI Knowledge Gateway for specific country work using the 'country focus' search filter. For example you can view the documents related to our work in Thailand here. The iDSI Knowledge Gateway is an Open Access platform: providing decision makers within health on a global scale with free access to the tools and information they need to make better informed decisions to improve healthcare.
Stay up to date as we post about more of the new features on the website: follow us at @idsihealth and sign up for our newsletter using the form in the right hand side bar.