Almost 100 delegates policy representatives from across Africa and Europe gathered in Accra, Ghana this month for a special event that focused on sustainable resource allocation policies for low and middle income countries (LMICs), co-hosted by iDSI and Health Technology Assessment international (HTAi).
The two-day 'Setting Priorities Fairly: Sustainable Policies for Effective Resource Allocation' event, opened Ghana's Deputy Minister for Health Mr Kingsley Aboagye-Gyedu, set out to address the difficulties LMICs face with Universal Health Coverage (UHC) attainment; and how to navigate inconsistent and dwindling healthcare funding.
Health Technology Assessment (HTA) was a key focus, with presentations including global experiences of HTA from eminent researchers, health economists and medical doctors from the University of Ghana, Ghana's National Health Insurance Authority, The Global Fund to Fight AIDS, Tuberculosis and Malaria, World Health Organization, HTAi, iDSI and more.
During his keynote speech Mr Aboagye-Gyedu described how Ghana had incorporated HTA recommendations in its Standard Treatment Guidelines and Essential Medicines List because of its usefulness as tool to assuring value-for-money – from the design and management of benefit packages to the determination of reimbursement list of medicines.
Under the leadership of Ghana's Ministry of Health, iDSI has been working with a variety of Ghanaian entities for several years now, providing technical assistance and facilitating capacity building for evidence informed priority-setting, to support the tough decisions and trade-offs government is faced with.
Mr Aboagye-Gyedu also acknowledged iDSI's support on Ghana's pilot study on cost-effective management of hypertension, describing the project as "gearing the country into a real policy momentum to entrench HTA into the selection and pricing processes."
Day one of the event consisted of pre-conference workshops aimed at stakeholders with relevant interest in HTA development in sub-Saharan Africa, intended to provide an overview of HTA, covering core technical components and how HTA could be integrated within a broader decision-making process.
The second day aimed to extend global experiences in HTA to the SSA region and increase the understanding of the use of HTA for resource allocation decisions while coordinating policy priorities of SSA nations. A mix of expert speakers provided international perspectives and thought-provoking presentations in plenary and parallel sessions covering a wide array issues pertinent to HTA in SSA.
iDSI's newly released Health Technology Assessment Toolkit was launched at the event, with each delegate receiving the resource pre-loaded onto a USB stick. The HTA Toolkit is a free, accessible resource for technical staff working in health policy keen to build HTA processes in their own countries and was developed in consultation with staff working in health policy around the world.
Iñaki Gutierrez Ibarluzea, HTAi Vice President, said: "HTAi was proud to join forces with iDSI as well as HTA colleagues from around the world on this ground-breaking initiative. The healthcare challenges sub-Sahara Africa faces are complex and multi-faceted – by leveraging the collective inputs and suggestions from global leaders we hope the ideas and recommendations stemming from this workshop will further spur development and innovation within the region. The collection of knowledge from the delegates that attended the conference was truly remarkable and we are excited to see what some the brightest HTA minds can achieve as a result of this collaboration."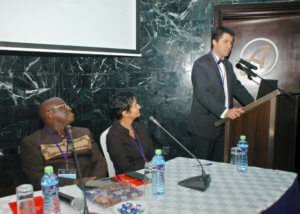 Professor Kalipso Chalkidou, iDSI Director, said: "iDSI was delighted to collaborate with HTAi and Ghana's Ministry of Health to host the event. Bringing together almost 100 policy representatives from across Africa and Europe, our aim was to support countries' vision to reach Universal Health Coverage in an equitable and sustainable fashion. It was wonderful to be back in Accra, further strengthening our partnership with the Ministry of Health in Ghana, at this event. I would like to extend my thanks to Mr Aboagye-Gyedu for his endorsement and for formally opening and supporting the event."
Visit the iDSI Knowlege Gateway to read our round up of the event, including key messages and details of external media coverage.
We have made all presentations from the event available on iDSI's website.
Press coverage:
Ghana News Agency: Ghana hosts conference on sustainable resource allocation
policies (27 September 2018)
Modern Ghana: Conference On Sustainable Resource Allocation Policies (28 September
2018)
Business Ghana: Ghana hosts conference on sustainable resource allocation policies (1
October 2018)