Institutionalizing HTA in India – A joint iDSI-DHR event
India is at a crossroads on the journey towards universal health coverage (UHC). With India's growing importance in the global economy, it faces considerable challenges in delivering high-quality, accessible healthcare within an increasingly global marketplace. Choosing interventions and technologies that deliver the best health results for the money are literally life and death decisions. Yet, constraints on public budgets, competing agendas, and the lack of scientific evidence generated within the complex Indian context make these choices difficult. Clear policies, good governance and balanced decision making become critical to ensuring that every rupee in health is used efficiently and serves people fairly.
At the direct request of the government of India, iDSI is providing hands-on, technical support to policy and decision makers to engage in more effective allocation of health resources through implementing a system of health technology assessment (HTA) in India. This mandate to establish an effective system of HTA through the creation of a medical technology advisory board (MTAB) was allocated to the Department of Health Research (DHR)  in the 12th 5 year plan with the intention to improve the availability, quality, and affordability of health services.
The partnership between DHR, the Indian Ministry of health, and international partners from iDSI, provides a unique opportunity to:
Establish HTA, based on scientific evidence and sound governance processes to identify good value and good quality healthcare interventions, as the gold standard for health policy-making across India.
Deliver on good value and good quality healthcare interventions in clinical practice.
Bring together policymakers and existing technical institutions, and strengthen their ability to bridge the gap between scientific evidence and policy.
On 25 July, 2016, a workshop was jointly convened by DHR, Government of India, The Indian Council of Medical Research (ICMR), and the international Decision Support initiative (IDSI) in order to raise awareness of this initiative to institutionalise HTA in India. This initiative aims to introduce a more transparent, inclusive, fair, and evidence-based process by which decisions regarding the allocation of health resources are made in India. The official government press release for the event  highlighted the interest of the Indian government to utilise the event to learn from international iDSI partners on how HTA can be best utilised to improve access to affordable health care for the people of India towards the ultimate goal of UHC. The workshop provided the opportunity for key stakeholders within the field to share experiences, and engage in rich discussion and debate regarding the context, need, function, and future plans for this initiative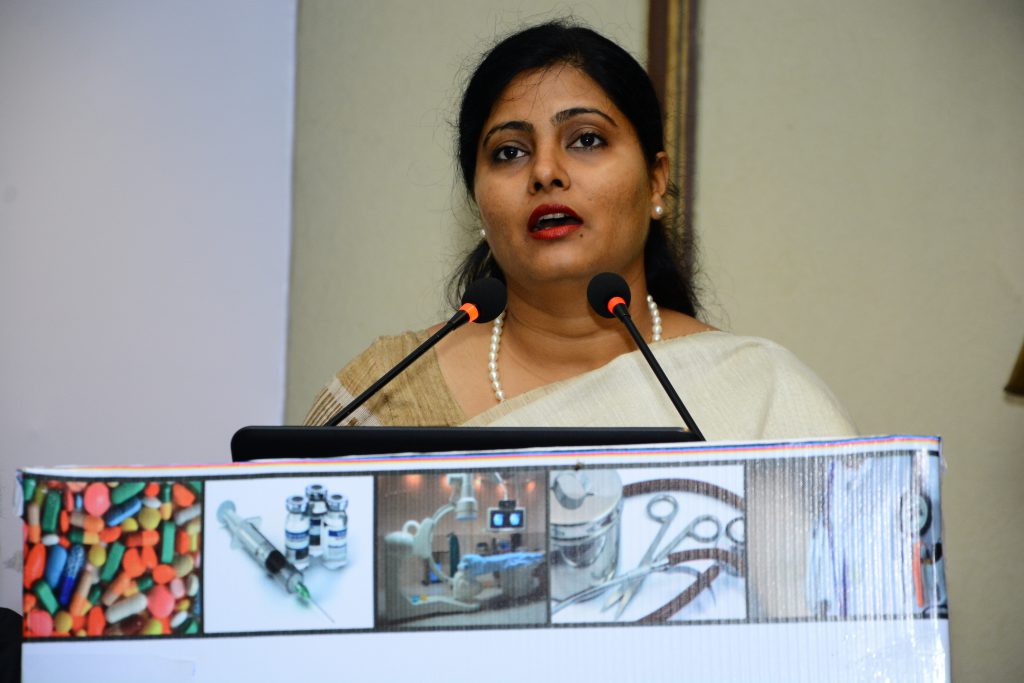 The conference was well attended with over 200 delegates, including senior members of the Indian government such as the 2 newly appointed ministers of state for health, Shri Faggan Singh Kulaste and Smt Anupriya Patel; Director General of Health Services, Mr Jagdish Prasad; and the Secretary of DHR, Dr Soumya Swaminathan. State ministers for health were also in attendance, including the Ministers from the states of Punjab, Tamil Nadu, and Karnataka. Each of these representatives expressed their support on behalf of the government of India for the establishment of a system of HTA in India:
 "Health Technology Assessment is very essential … for achieving Sustainable Development Goals (SDGs) and goals set under the Five Years Plans of the Government…this will aid in fulfilling commitment of the Government and will help in bringing people of the country underUHC"
Shri Faggan Singh Kulaste, Minister of State (HFW)
"Universal Health Coverage is the need of the hour for India and HTA can be a potent solution for this. The Government is very keen and has already started a journey towards achieving this…the Government is committed towards HTA …HTA will help to shift towards evidence-based policymaking and the insights and valuable experiences of NICE (UK) and HiTAP (Thailand) [iDSI] will help to framing an effective UHC"
Smt. Anupriya Patel, Minister of State (HFW)
"HTA will provide a transparent, consultative process of decision making that is based on evidences and provides inputs to policymakers for providing universal health services that are affordable, appropriate and effective"
Dr. Soumya Swaminathan, Secretary, (DHR)
"On behalf state health ministers, i would urge to think of state level issues and would be happy to help set up state level bodies to work with a centralised system… we don't have time to waste as we are constantly facing these policy issues with no tools to make evidence informed decisions…This [HTA] is very, very important – let's do it!"
Ms Vini Mahajan, state minister of health, government of Punjab
Speakers at the event included distinguished leaders of health research and public health strategy in India, including Mr Manoj Jhalani, Joint Secretary and Mission Director (NHM), Ministry of Health and Family Welfare, Prof S. K. Reddy, President of the public health foundation of India (PHFI), prof T Sundaramen, director of the Tata Institute of Social Science (TISS), and Dr Sanjiv Kumar, Director of the National Health Systems Resource Centre (NHSRC). These speakers shared their insight into both the promise and challenge of implementing HTA in India and raised key issues for consideration, such as how the board will function at the central and state level, and what kinds of evidence and data will be used to inform analyses and decision making.
International speakers from Thailand and the UK also delivered presentations sharing global experiences of utilising HTA to set priorities in health. Dr Yot Teerawattananon gave a compelling presentation on the establishment of the Health Intervention and Technology Assessment (HITAP) program of Thailand, and Dr Phusit Prakongsai shared his insights into the secrets of the Thai government's success in achieving UHC for the Thai population. Professor Anthony Culyer, Chair of iDSI Board, and Dr Kalipso Chalkidou, founding leader of iDSI, presented on the utility of the iDSI network in providing strategic support and opportunity for knowledge exchange in India to establish the HTA program, and Prof Bruce Campbell shared his experiences of how NICE was established in the UK and the important lessons learned during this process. In addition, Mr Lluis Vinals Torres, health finance advisor of the WHO south East Asia Regional Office (SEARO) gave an enlightening presentation outlining the need for defining platforms where HTA can be developed and utilised, such as to inform the health benefits package.
The breadth of backgrounds of attendees, ranging from central and state government, academic institutions, not for profit organisations, public and private health insurers, international agencies such as the WHO and the World Bank, the armed forces, national trusts, and think-tank institutions made for lively debate and rich discussion.
Institutionalising HTA in India will require government support, technical capability and capacity, and a fit for purpose health system that can support its implementation. By bringing together Indian academics, healthcare providers, insurers, and policy-maker representatives with international experts in the field, this joint DHR-iDSI workshop facilitated an open platform to discuss and address these issues and plan a way forward for India. This workshop paves the way for the beginning of the long path towards building a sustainable HTA framework to inform coverage decisions as part of India's UHC agenda.
The event received considerable press coverage. Below is a selection of related media articles: