Between 2012 and 2014, the Rockefeller Foundation funded NICE International to support a series of initiatives with the Ministry of Health and associated agencies, including The National Health Insurance Agency (NHIA), The Ghana Health Service (GHS, the largest provider agency) and the Ghana National Drugs Programme. The key objective of this cooperation was to raise awareness among stakeholders in Ghana on the role and value of using evidence-based approaches in healthcare decision making and priority setting, including performance monitoring. See below for further information on this earlier work and
Study visit to the UK
August 2014
NICE international arranged a study tour of NICE and the NHS for a multi-stakeholder group of colleagues from across the Ghanaian health sector, including:
Parliamentarians, including a member of the Health Select Committee
the Ministry of Health and Ghana National Drugs Programme
the National Health Insurance Agency
providers (Ghana National Drugs Programme, Christian Health Association of Ghana, Korle Bu hospital)
the Ghana College of Physicians and Surgeons
Civil Society groups (the Ghana Coalition of NGOs in Health)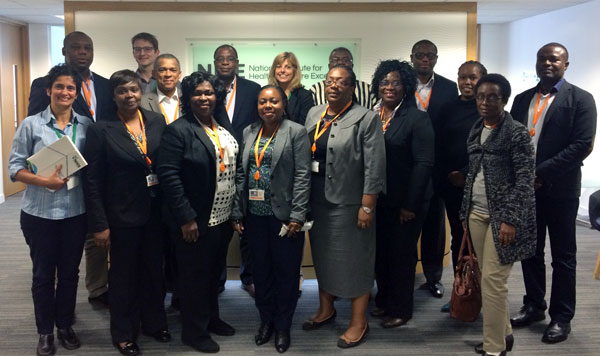 Participants discussed the institutional, procedural and technical aspects of priority setting in the British NHS and the role of NICE and its partners. Together, the delegation explored the methods and processes of health technology assessment, clinical guideline and quality standard development and implementation and their applicability to the Ghanaian setting, in the context of Ghana's movement towards Universal Health Coverage. Colleagues also observed a NICE Technology Appraisal Committee meeting and visited the Royal College of Physicians.
There was a strong interest in pursuing a joint collaboration in one or more of these areas, and discussions over the coming months will explore what shape this will take.
Progress update
February 2014
NICE International and HITAP have summarised their collaboration with Ghana to date, working to raise awareness of priority setting and HTA and improve quality of care. Read the report.
Scoping visit
October 2013
From 29 to 31 October 2013, NICE International, together with colleagues from HITAP and the World Bank, carried out a scoping visit in Accra, Ghana. There were three objectives to the visit. First, to gain an understanding of the key stakeholder agencies within the Ghanaian health system, the current situation and the challenges they face; second, to identify areas where the expertise and experience of NICE and HITAP may be relevant to Ghana, to help overcome some of the current challenges; and third, to raise awareness among stakeholders in Ghana on the role and value of using evidence-based approaches in healthcare decision-making and priority setting.
During the visit, we met with key figures in the Ghanaian health system, including from the Ministry of Health, National Health Insurance Agency, and from the two largest provider agencies the Ghana National Health Service and the Christian Health Association of Ghana. We also met with academics from the University of Ghana School of Public Health and with donors including the World Bank and DFID. NICE International and HITAP will be discussing further with Ghanaian colleagues possible areas for collaboration. A study tour to NICE is planned for early 2014.
In addition, from 5 – 6 November, NICE International attended and contributed to the Ghana National Health Insurance Scheme's 10th anniversary conference, themed "Towards Universal Health Coverage: Increasing Enrolment Whilst Ensuring Sustainability". NICE International contributed to a panel session, together with colleagues from Vietnam, Thailand and Ghana, where the use of HTA as a tool to support the delivery of high quality, efficient care was discussed.